250th Celebration
No meetings currently scheduled.
Members
0 of 0 seats. 0 years each seat.
Previous meeting:
General Blocks
Help support the 250th Celebration and order some great souvenirs featuring our beautiful leafy tree with roots logo designed by Leverett resident and artist Lori Lynn Hoffer.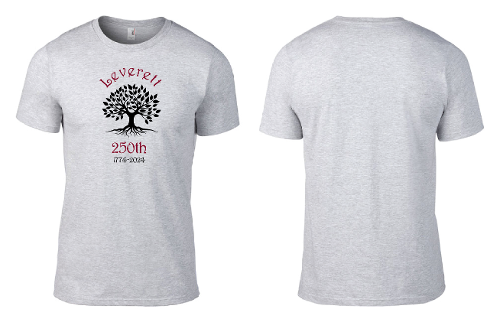 Leverett is turning 250 in 2024!
The town was founded on March 5, 1774 and there is a lot to celebrate!
Our year of 250th celebrations kicks off with an ice fishing tournament and includes events and activities all year long that honor the land, the Indigenous people who lived here first and the settlers who arrived later.
Please scroll down for our Calendar of Events!
Leverett's founding actually precedes the American Revolution and signifies the date that the town separated from Sunderland in 1774.
Commemorating this big anniversary is an opportunity to celebrate and learn about the area's storied heritage. For example, Did you know that former Leverett Postmaster Bradford Field was appointed by President Abraham Lincoln?
Or that schooling was once held in nine districts throughout town?
Or that Indigenous people are believed to have lived here for thousands of years, including the Norwottuck and Pocumtuck people who lived here during the centuries before colonization?
Or that Leverett once had its own baseball team?
Or that J.W. Watson's Store in Moore's Corner in the 1870s was considered to be the largest country store in western Massachusetts?
Throughout the year, we will discover how Leverett has been shaped into the place it is today and we will celebrate all those who have lived here through a variety of events and activities including
March 2
A pancake breakfast at Leverett Elementary School will be sponsored by the Leverett Firefighters Association.
March 5

250th Anniversary Postage Station at the Leverett Post Office from 11-1. The commemorative postmark will be placed on all items with an uncancelled first-class stamp (this could be a letter, photo, paper, etc.)
In-person postmark stamping available regular hours at the Post Office March 6 - March 8 from 12 - 1 and March 9th 10-11 am.
March 9
Leverett's Birthday Party will celebrate the town, this land and all the people who have inhabited it. Festivities include traditional Native American games as well as old-timey games, musical and theatrical performances, local-themed refreshments and, of course, a birthday cake and gifts for attendees! Held at Leverett Elementary School, students and adults alike will explore the themes of history and Leverett's most beloved attributes.
May 25
Residents and friends will be invited to display their favorites at an Antique Vehicle and Equipment Show on the Leverett Elementary School ball field.
July 6
This is an event-filled day with a parade through town in the morning and a barbecue in the afternoon at the ball field. Residents, community groups, town government and Leverett businesses can march or create floats to ride in the parade through town to the Safety Complex.
Autumn
The celebrations continue at the October Harvest Festival
There are also many special projects in the works, including historical presentations about the Indigenous people who lived here long before the founding of the town, commemorative plantings, a quilting endeavor, an oral history project and a geocaching event.
Our neighbor towns are all working together to share a giant wooden birthday cake that has heralded their own big anniversaries. Leverett has put the cake on display near the library and the cake will be lit with 250 candles, during our year of celebrations!
So, mark your calendars and please consider making a donation to support all these activities that are brought to you by the all-volunteer Leverett 250th team! To donate from this website, simply go down to "Useful Links," and select "Pay Online" and then select "250th Anniversary."
If you'd like to be involved in plans, we'd love to work with you! Please email celebrateleverett250@gmail.com
We'll be updating this page, so check back often for more details on events and activities as plans develop!
Sincerely,
The 250th Anniversary Committee
Committee Chair Contacts
The content and photos on this page are brought to you by Kari Ridge.